This is the text of a sermon given at First UU Nashville on May 8th, 2016.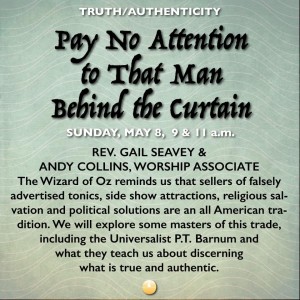 Listen to the sermon:
Pay No Attention to That Man Behind the Curtain
The Wizard of Oz started out as a harmless showman in our world, one who entertained people with tricks and illusions. Then he crashed, literally and figuratively, into a whole new persona. To the people of Oz, he appeared out of the sky, in a vehicle none of them had ever seen before, and so they ascribed to him power equivalent to the only other sources of great power they knew — the Witches of the four directions.
His story is still important for us today because he shows us the nuances of the human condition, and how a good person can still make bad decisions out of fear. On one hand, the Wizard embraces the leadership thrust upon him, and uses his showman skills to genuinely care for those in his new community — building them a safe, sustainable city in which they thrive.
On the other hand, when he believes that these witches who have "real" magic will eventually discover his tricks and destroy him, he also uses that power out of fear. He sends Dorothy, a young girl, and other beings of Oz — the scarecrow, the tin man, the lion, into imminent mortal danger in order to save himself. He deems their lives to matter less than his, in the guise of protecting his legacy, when deep down he knows the citizens of the Emerald City would do just fine without him now.
The Wizard of Oz captured the attention, and the fear, of the citizens of Oz when he crashed his balloon — something they'd never seen before, a catastrophic event in their midst. They witnessed this man not only survive, but walk away unscathed. They projected power and authority on to him, and made him their leader. In the same way, the conflict and fear from the War of 1812 led Andrew Jackson to become a national hero, and he also had power and authority projected on to him. The first time he ran for president, he won the popular AND electoral vote, but with more than two candidates running, there was no clear majority. The other candidates colluded together to give John Quincy Adams the majority.
This gave Jackson more than enough ammunition to claim that the election had been tainted through government corruption and conspiracy. His political persona shifted from national hero to a man of the people, fighting a war against the establishment that had stolen the presidency. Four years later, campaigning on this narrative, on this "spin", he won by a landslide.
When I was in school, here in Tennessee, we were taught that Jackson was a populist President — about how his election was a victory for democracy, how commoners were invited to the White House for his inauguration, how he took on the elite who were stealing power from the people. We were taught that he and followers founded the Democratic party, that he fought against the earliest attempts by states like South Carolina to secede from the Union. It wasn't until I reached AP US History in high school, and I had a teacher who brought in The People's History of the United States as a counter-narrative to the state sanctioned textbook, that I learned about Jackson's pro-slavery platform, or how he was instrumental in the passage of the Indian Removal Act and the Trail of Tears.
And the latter was not some kind of regretful political compromise, like we see our heroes do in the gritty reboots of our modern stories. Jackson went before Congress and used his showmanship, his charisma, to spin a tale to white colonial America of an oppressed population who should be grateful for their oppression. He said, "Rightly considered, the policy of the General Government toward the red man is not only liberal, but generous. He is unwilling to submit to the laws of the States and mingle with their population. To save him from this alternative, or perhaps utter annihilation, the General Government kindly offers him a new home, and proposes to pay the whole expense of his removal and settlement." This from a man whom whole generations were taught was an unequivocal hero. He may have been heroic, in certain times and places. But he was handed power and he used it, along with his powers of persuasion, to ruin lives instead of protect them.
A different kind of Wizard from our history is P.T. Barnum, who was a lifelong Universalist. Contrary to popular belief, he did NOT say "There's a sucker born every minute" — that was one of his competitors. Rather, Barnum's principles are better summed up in his treatise on Universalism: "We believe that holiness and true happiness are inseparably connected, and that believers ought to be careful to maintain order and practice good works; for these things are good and profitable unto men."
He was unapologetic about his desire to make money, but always tried to align his ventures with providing services to his local community and to the country at large, because he believed it was the right way, the only way, to do business. And yes, in his mind, in his religious faith, all the museums and shows he created were community services equal to his contributions to education and to Universalism. His museums and sideshows were created to offer humanity the experience of wonder, to inspire dreams of what might be possible. He wrote, "I base my hope on the Word of God speaking in the best heart and conscience of the race -the Word heard in the best poems and songs, the best prayers and hopes of humanity. The ages have been darkest when this hope was lowest."
None of this is to claim that he was a perfect human being. Like all of us, he was a product of his time. This same man who was an adamant abolitionist also fought to keep people from having access to birth control. Ralph Waldo Emerson hated him, going so far as to claim that one of Barnum's bankruptcies was proof of gods. But we as human beings are not all or nothing packages. Like the Wizard, like Jackson, like Barnum, we are neither black, nor white, not even grey, but rather a constantly shifting, living mix of all the colours of our human experience. Whether you call it the Word of God, or choose what our UU humanist origins describe as "the belief and trust in human effort," the thought that we can make a difference even when we are not perfect all of the time binds us together in faith. We just have to find a way to make decisions out of love instead of fear.
Ultimately, the Wizard realizes what a horrible mistake he's made in sending Dorothy to kill the Wicked Witch of the West. When she discovers his secret — that he has no "real" magic at all, they still insist that he honour his promises anyway. And so, the Wizard returns to the only skillset he's ever had — showmanship — and uses his wordsmithing and clever props to draw out the qualities that the scarecrow, the tin man, and the lion had actually had all along. Up to now, they have lived in fear — fear of not being smart enough, not being brave enough, not being emotional enough to survive. The Wizard takes away that fear by enabling them to see a different truth about themselves, one that leads to authentic wholeness, even as that truth is born out of deception.
I was so moved by Andy's words, because of their honesty. He's afraid. I'm afraid. I know some of you are afraid, too. I'm also angry, angry at how I see people's fear being used to create more fear, to manipulate, to scapegoat, in all aspects of our culture right now. The news cycle, our modern narrative, moves so fast that we can barely fact-check something that comes across our Facebook feeds before we're hit with another inflammatory meme.
People with agendas of control are hijacking larger movements that offer people hope: hope of jobs, health care, access to education. And before you assume that you know which "side" I'm talking about, let me be clear — I'm talking about all sides. The people you think are on the "other" side are just as afraid as you are. They're afraid they'll never work again. That they'll lose, or never have, a home. That they'll lose their children, or never be able to afford having them in the first place.
It is thousands of years of genetic memories that teach us to demonize, de-humanize those with whom we find ourselves in conflict, because when they are not-us, we can safely categorize them as a threat. That is how humans survived the millennia — with categories. This plant is safe, that plant is not. This tribe is an ally; that tribe is a threat. And yet humans are also hard-wired for compassion — we can see this in our babies and young children. It's the most profound act of love, of our Universalist tradition, to witness something beyond that instinctual categorical thinking. When all of our human history works to convince us that putting people into boxes keeps us safe, it's dangerously radical to live into the idea that love wins.
The modern populist revolt is happening on both sides of the political chasm, and we are called to reach out across this great divide and say, "You matter to me." All the fact-checking and debunking in the world will not ease our suffering until we give witness to these people, our Samaritan neighbors, who are afraid. And yes, that includes the ones who are spewing racist hate speech, or deeply sexist rhetoric. This is the hardest task of our Universalist heritage — living into our covenant that every person has inherent worth and dignity — even those who are trying to take that worth and dignity away from others. And yet our world need this from us, desperately.
The life of Andrew Jackson is a warning of how easily the one claiming to be the saviour of the people can turn into an enemy of true freedom and justice. And seeing how the story of his life has been handed down in different ways, depending on one's context, shows us how hard it is to ever find truth with a capital T. We must take the narratives we're given, and instead of believing them at face value, test them against the rubric of our Unitarian Universalist call to build beloved, sustainable, welcoming communities in which people care for each other and thrive. This is how we find authenticity. This is how we embrace a multitude of truths that celebrate our diversity as a strength, not a weakness.
Even as I say that, I'm still afraid. But here, with you, I know I'm not alone. Even when I doubt myself, I believe in YOU. I hold tightly to that, knowing that even when we are afraid, when we are tempted to make terrible choices in the midst of our fear, together we will keeping calling each other back to covenant. This is how we ensure that love wins.
May it be so.