Share this post:







I was born in 1979. Return of the Jedi was one of the first stories I remember being obsessed with, and as you know, the stories we tell are what make us human. In Princess Leia, I was given a woman who lived bravely and compassionately, who was composed when thrown into unknown situations and open enough to share love with her family and friends. Even untrained in the Force, she had the spiritual strength to feel its pull on her and the insight to let it guide her.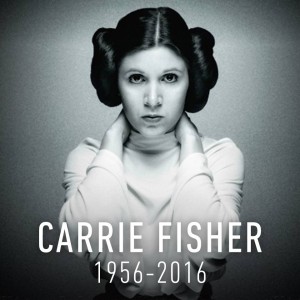 As an adult I got to share her with my children, and to witness her age into the sacred crone. I also had the satisfaction of her being given a military rank worthy of her tactical prowess, but ultimately — she was my first princess, and because of her, I know that princesses are leaders.
Godspeed, Carrie Fisher. And thank you not just for bringing Princess General Leia to life, but for the rest of your body of work — your humor, your frankness about your own struggles with addiction, your work to remove the stigmas of mental illness, and for always speaking truth to power.


Share this post: