Share this post: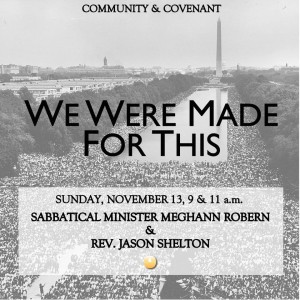 Listen to the sermon here:
or watch and listen to the sermon on Facebook

I've gotten lots of questions about what today's sermon will be about. I've deflected all of them — partly because, well, I wanted people to show up. And partly because, I think, I wasn't sure where on the spectrum between pastoral and prophetic I was going to land. But here's the thing: from this pulpit, I cannot endorse candidates. But I can absolutely speak to issues, especially ones directly relevant to our religious tradition, and I can talk freely about already elected officials. I want to be clear right now, at the beginning of this: I love you. I love all of you, with your depth and your nuance and your glorious divinity, and the parts of you you wish you could forget about, or hide. I love you. And as a human being, naturally, I like it when you like me. But I'm also one of your ministers. I wouldn't be doing my job if I were trying to please everyone in the room. So buckle up.
In Unitarian Universalism, we also have something called the freedom of the pulpit — the right of the minister to speak what they believe to be truth to power. What often gets forgotten is that this freedom of the pulpit goes hand in hand with the freedom of the pew — the sovereign right of those listening to agree or disagree.
And here I come to the crux of the issue at hand in our culture this week: it is assumed, in our tradition, that we will have a diversity of beliefs. It is HOW we communicate about and through these differences, how we treat those who are not exactly like us, that binds us together as Unitarian Universalists. This is a legacy we UUs have not always lived up to — but that doesn't mean that we should give up trying. One of our most popular hymns is Rumi's come, come, whoever you are, but one of his most important lines of the poem has been cut from the version we sing: "Come, even if you have broken your vow a thousand times, come."
Now is the time for us to renew our vows, to our covenants of behavior and to our principles of action, because it became pointedly clear Tuesday night that much of the rest of our country has forgotten, or never learned, how to be together.
A few weeks ago, one of our members preached a controversial sermon on the inherent worth and dignity of every person in the face of great evil — the freedom of the pulpit. While she was preaching, someone was overheard to say, out loud, "She should throw herself away." That is not the freedom of the pew. That is the kind of divisive response that has led us to this awful moment in our history, where a man who has incited violence, hatred, bigotry, racism, and openly admitted to sexual assault has been elected to the highest office we have. Say whatever you will about the electoral college, the fact that the popular vote was even close enough to allow the electoral college to override it makes me ill. The fact that almost half of eligible voters didn't vote, by choice or by voter suppression, makes me ill.
I have friends, people whom I trust with the lives of my children, who voted for Donald Trump. I know there are people in this room who voted for Donald Trump. I'm both capable and willing to to discuss with civility and genuine interest the reasons those votes were cast. But make no mistake — the inherent worth and dignity of every person is not the equivalent to the inherent worth and dignity of every opinion. People are going to die because of this. In the last five days, there have been over 200 incidents reported of hate crimes directly linked to people feeling empowered by Trump's election and the validation of his horrific rhetoric. Those are just the ones we know about.
People's lives are at stake now. I am all for rooting out corruption in government, but not with an administration that believes climate change is a hoax perpetuated by China, that women should be punished for having an abortion, and that being gay can be cured with electroshock therapy. That's only the beginning of the list.
It is not enough to look at policy platforms or party affiliation and ignore the person who will be taking the office. It is not a responsible choice to ignore the impact of electing a man who calls himself the "law and order" candidate while we display a Black Lives Matter sign on our lawn. "Law and order" is the spin white people put on the New Jim Crow, mass incarceration, and the epidemic of systemic racism in our criminal justice system. If you missed our Palmer lecture about this, it's posted on our website. Want more? The documentary "13th" is streaming on Netflix, right now. Lives, families, of people of colour have been destroyed in this country for decades, and it became clear on Tuesday night that the system is going to continue.
I know this is a dismal picture I'm painting for you. For some of you — our members and friends who are people of colour, queer, women, and so on and so forth — this is more of the same. The fear that you have already lived with every day. For some of you, this reality is new, and it's weird and really really uncomfortable, and it is so tempting to retreat back into locations of privilege to avoid that feeling. Even those of us who are part of one group under constant attack — for instance, me, as a cisgender queer woman — may find it easier to conserve my resources to protect myself. I can retreat into my whiteness, my education, my class status, as insulation.
But my resistance will be intersectional or it will be worthless.
I am part of the interdependent web of all existence, and that means I am in relationships. That web means those relationships are with strangers as well as with family and friends. My resistance to the status quo, to the patriarchal idea that any man can just grab me by the… well, you know. It's a word we reject in our UU sex ed classes. My resistance to being grabbed by any part of my body, as a woman, must be intersectional with resistance to racism, transphobia, bigotry, Islamophobia, and all the other dis-eases burning through our communities.
So where do we go from here?
These words from Clarissa Pinkola Estes are a start, for me:
Ours is a time of daily astonishment and often righteous rage over the latest degradations of what matters most to caring, visionary, civilized people. You are right in your assessments. The lustre and hubris, the bald faced audacity that some are engaged in while endorsing acts so heinous against children, elders, everyday people, the poor, the unguarded, the helpless, this mother earth, is breathtaking. Yet I urge you, ask you, gentle you . . . to please not spend your spirit dry by bewailing these difficult times. Especially do not lose hope. Most particularly because, the fact is, we were made for these times. Yes. For years we have been learning, practicing, been in training for, and just waiting to meet, on this exact plain of engagement . . .

Ours is not the task of fixing the entire world all at once, but of stretching out to mend the part of the world that is within our reach. Any small, calm thing that one soul can do to help another, to assist some portion of this poor suffering world, will help immensely. It is not given to us to know which acts, or by whom,will cause the critical mass to tip towards an enduring good and transformative shift. What is needed for dramatic change is an accumulation of acts great and small, adding, adding to, adding more, continuing. We know that it does not take everyone on earth to bring justice and peace, but small determined groups and individuals who will not give upduring the first, second, or hundreth gale.

The good words we say and the good deeds we do, are not ours. They are the words and deeds of the love and life that brought us here. In that spirit, I hope you may write this on your wall: When a great ship is in harbor and tied to the pier, it is safe, there can be no doubt.  But that is not, what great ships are built for.
Each of us is a great ship. I truly believe that. But some of us, at this moment in time, have taken more damage than others, and we see no end in sight. It will require a fleet of great ships, working together, to bring about an end to the storm. It will require this sanctuary, this community, to commit to being a safe harbour when any of us need to resupply, to repair. It will require us, all of us, to keep each other safe, and to build the next generation of great ships in our children and youth.
I believe this can be done. I believe you, every single one of you, can contribute to make it happen. I believe that our world needs us, Unitarian Universalists, more than ever. I believe if we are willing to live into our seven principles — not as beliefs, but as calls to action — and to fully commit to our covenants of how we will be with each other and in our greater communities — that we can hold our government to account for the lives of the people. The moral arc of the universe only bends towards justice when we bend it.
You may have seen the safety pin meme going around. The idea is that, if one is wearing a safety pin, one is identifying as a "safe" person, someone who can be trusted by those who are in a vulnerable position. There is a lot of controversy around this idea. White pride people are telling their followers to wear safety pins to lure people of colour into trusting them. Leaders of colour are calling it out as yet another way that white people soothe their conscience without taking direct action to change the systems that lead to harm and violence.
You may have also noticed that I'm wearing one. And so is Rev. Jason. We're offering them here today to anyone who wishes to take one. But I'm asking you, if you put one on, to remember it not as a symbol for others but as a symbol for yourself. That every day you wear that pin you have pledged to rise up, to speak out, to literally put your body in the way of harm. This is not something to take lightly. This is something that requires thought, training, and planning. This requires you to be willing to protect a black man, a trans person, and a Muslim woman with equal commitment. Wearing this pin means you are willing to get involved with organizations like Showing Up for Racial Justice, with Black Lives Matter. It means you are willing not only to come to the aid of a stranger, but to also risk your existing relationships when people you know make jokes at the expense of others,  jokes that perpetuate the hate against people we claim we want to liberate.
The safety pin also represents something else, as explained beautifully by the Rev. Kendyll Gibbons: "A safety pin is also about holding things together, maybe just barely, as best we are able – about improvising in the presence of brokenness and failure, and trying to keep the fabric of our connections from being completely torn apart.  It's about doing what we can with the resources we have, even when they are far from ideal."
I don't expect anyone here today to take a pin, nor do I expect to see you wearing it if you do take one. Perhaps you want to take one and keep it with you, to reflect or meditate upon its meaning, as you discern your role moving into the future. Whatever you decide — you are still part of this community. You are loved. You are wanted. You have something to contribute. And we will figure out what that is, together.
The other item we have to offer today is a piece of sidewalk chalk. UU minister Ashley Horan, of the Minnesota UU Social Justice Alliance, has started the movement of Neighborhood Love Notes. She is asking people all over the world to take chalk, and to leave messages of love and support all over their communities, and in particular in front of places where people are particularly vulnerable, like Islamic mosques. So we invite you, as you leave this sanctuary today, to take a piece of chalk with you and spread our message of love.
Our closing hymn today is "America the Beautiful". Jason and I chose this intentionally, because it contains within it hope, and the promise of grace, at the same time it speaks to our history of patriarchy, theft, and genocide. We cannot learn from our terrible mistakes if we pretend they never happened. In this sacred space, this sanctuary, we have descendants of these pilgrims, and those indigenous people whom the pilgrims decimated. In this sanctuary, we have those for whom brotherhood has always been a welcoming word, and those for whom it has oppressed and excluded them from the most basic of human rights. In this sanctuary, we have people who believe in God, people who believe God is a he, and people who believe neither of those things. For some, God is irrelevant. For others, divinity is many gods, of many genders.
This is the work we have to do, and the promise held within this song, including its devastating flaws. We are a multitude, and we are always seeking to grow, to listen, to learn, to be better, and to make amends. We invite you to sing this song, in its entirety, and to recognize when the words make you angry or uncomfortable. Our history as a country is bloody, and cruel, and oppressive. But just as we adapt our language to answer the call of love, so too can we change our vision to be more worthy of its promise.
May it be so.

Share this post: