Share this post: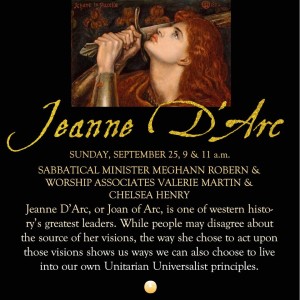 Listen to the sermon here:
Or, watch and listen to the sermon on Facebook

Joan of Arc. The name has passed into legend around the world, the Maid lifted up into sainthood. Her story has been re-imagined, retold, and adapted over and over again, from Mark Twain's novelization of the historical records in France to the modern day setting of the show Joan of Arcadia. Surely, the life of Joan of Arc qualifies as words and deeds of prophetic people which challenge us to confront powers and structures of evil with justice, compassion, and the transforming power of love — one of the adopted sources of our Unitarian Universalist faith.
What does hearing her name bring into your mind? Was she an illuminata commanded by God to save France from annihilation? Was she mentally ill, suffering from hallucinations and caught up in the superstitions of her time?
These are the kinds of questions that follow her legacy around in these modern times, and I believe they detract from it. It does not matter whether or not her voices were from God. What matters is her choices, her actions, and what she inspired in the people around her. For a girl whose name calls up so many questions about the truth of vision and the nature of religious devotion, the details of her life are known in unquestionable detail through records of the Hundred Years War and court transcripts of her multiple trials.
Visions or hallucinations, she first saw her angels while working in a field. Though she had no contacts, no training, no resources, she defied her father —who testified that he would have drowned her himself rather than see her go to war — and made her way through the wrecked countryside to the seat of the local nobility, where she petitioned again and again to be sent to the Dauphin — the French prince who had been driven away by English aggression. When Joan came into his life, he was about to flee France altogether.
Each step on Joan's path is the same as the first, with only the names and places changing, and the threat to her life increasing. At each fork in the road, from her village, to Vaucouleurs, to the Dauphin's castle, to her first trial at Poitiers, to the siege of Orleans, all the way to the king's coronation at Rhiems, she faced the crushing doubt of powerful men, the mocking laughter of her fellow citizens, and grueling examinations, both verbal and physical, of her worthiness to just to speak, much less act. And each time, without fail, through the perseverance of her words and deeds and her unyielding faith, she turned every single one of them to her cause.
At first she held power just as a mascot for the people of France to rally around. After the Victory at Orleans she was placed in charge of tactical decisions. She was given special dispensation by the Church to wear men's clothing, equipped with personalized armor and her own war banner. In the span of just a few short weeks, she rose from being perceived as a delusional peasant girl to a general-in-chief on the fields of battle.
To quote 19th century Hungarian President Lajos Kossuth, "Since the writing of human history began, Joan of Arc is the only person, of either sex, who has ever held supreme command of the military forces of a nation at the age of seventeen." And she did not just send her army into battle — she joined them. One story is told of how Joan took an arrow in her neck and kept fighting until they had won.
What is even more significant is the actions she inspired in the soldiers and farmers who fought those battles. In real war there is the march, the nightly camps, the councils of war. It was during this downtime that she taught the peasant army a better way of life, of the orthopraxis that must follow any orthodoxy. She sent the whores away, outlawed gambling, and made each of them promise to stop swearing. She told them not that God would win them the battle if they raised their swords, but that battles would be won only when they gave their life to God's commandments.
Right action had to be performed in the world before the world would return any semblance of righteous victory. She did not just reclaim the land of France; she reclaimed its souls as well.
Her life was one of relentless, hyperfocused vigilance on her mission. Regardless of whether or not she had hallucinations or true visions of the saints and angels of heaven, it was the faith imparted to her by her community that enabled her to leave her home and find her way through one barrier after another until she could crown the rightful king of France.
When Chelsea, today's worship associate, and I were discussing this service, and where we wanted to go with all the many possibilities that come out of Joan's life, she lifted up the unification of tribes at Standing Rock to stop the Dakota Access Pipeline. What we learn from Joan, she said, is that it doesn't matter how things have been done in the past. It doesn't matter what entrenched systems of power or oppression or warfare have been at work, nor for how long.
When the heart of our vision calls for us to rise up and claim a better world, we must do so. For Joan, it was freeing her people from the ravages of a hundred year war, a war that existed longer than the memories of everyone alive at the time. Just think — no one could remember a time when they were not at war, and this young girl said surely, we can know such a time again.
But Joan's story does not end with the coronation. It continues on into tragedy. This is the part everyone knows. She's burned at the stake, nineteen years old. What doesn't always make it into the retelling is that she was captured by the English, and the King of France — the man who owed this girl his crown — refused to pay her ransom.
He abandoned her in most dire hour of need, and she was sold to a kangaroo court bent on destroying her just to send a message. From this point on, in the hands of the enemy, everything was rigged against her. In the end, the English had to resort to lying to convict her. Because she couldn't read, they convinced her to sign a document relinquishing her right to wear men's clothing, telling her it said something else. And so, the next time she put on men's clothing, they set her on fire.
The worst part is that, at the end, when she saw that she was truly, actually going to die, that she had been abandoned by the country she had saved and that there was no one else willing to help her, she recanted. She broke. The community that had given her strength was nowhere to be found, and so of course one human being cannot carry so much herself without being destroyed. This is the blessing of the gathering community. This is the power of our covenants — our promises of how we will be with each other. It's not about being nice.
It's about support, and love, and hope that we will care for each other through the best of times and the worst of times.
I turn to the words of Iyuskin American Horse and his people. The words of the hundreds of First Nations tribes that are gathering, right now, at Standing Rock, putting aside centuries of conflict among each other to fight for a common purpose. It does not matter what has been for the last hundred years or more, of the iron grip that white colonization and white corporations have had on the land and the people for so long. The protectors of land are rising up together to say no more. We will not do things this way anymore. And what they are protecting is not only sacred tribal land, but also access to clean water. Water is life, for them and for you and for me. Water is life for our children, and our children's children. Water is the future.
Like the Unitarian Universalists who answered the call to Selma in the 1960s, UUs, both laypeople and ministers are also travelling to Standing Rock and asking the local protectors how they can help.
But, of course, not all of us can go to Standing Rock. And that's OK. Each of us is capable of contributing to the greater vision in our own way. Joan may have left home to go lead an army and stop a hundred year war, but we might not know anything of her story if not for her mother. Remember, she'd been thrown away by the French and convicted by the English. Joan the hero entered our cultural consciousness because of her mother, an uneducated peasant woman, with no power. She petitioned, again and again, for her daughter to be retried posthumously, so that history would not remember her as evil. And eventually she succeeded.
Each of us has different gifts to bend the moral arc of the universe, different ways we can choose to live out the vision of a better world. Joan took on war. Iyuskin American Horse is taking on big oil. Joan's mother took on bureaucracy. The Reverend Robin Tanner, UU minister, goes out on the streets of Charlotte every night and puts the peaceful protesters up on Facebook live, showing the world their singing in their grief. All of these people, working against huge, entrenched systems of oppression, and doing so in the best ways they know how. Each of them adds to the effort. Joan could not have taken back France without earning the support of her army. Joan's mother could not have vindicated her daughter without someone finally supporting her bid for a retrial. Rev. Tanner is supporting the protestors, and we in turn support her and the protestors by witnessing what is happening.
Words and deeds of prophetic people, as a source of our faith, calls us not just to learn about the prophets of our history, but to remember those lessons so we do not repeat our mistakes. Joan of Arc teaches us that we must rise up with the prophets of today, and stay with them, in whatever ways we are able, in order to change the world for the better.
May it be so.

Share this post: